New York is undoubtedly one of the most important cities in the Americas and attracts countless tourists from all over the world who come to discover all the wonders of the city and enjoy its attractions while doing as much as possible.
You will find specialised companies that usually provide visitors with PASSES, not only to save money during their stay, but also to save precious time by avoiding queues, which can be very inconvenient.
Display sections Cover up sections
Enjoy the city without limits with the SightSeeing PASS
The SightSeeing PASSes available on the market allow easy access to the different attractions and are very easy to obtain, as all you have to do is choose a platform to buy them. This way, you can enjoy the events and tourist sites to the full, without having to waste time buying tickets.
Why should I choose a SightSeeing PASS when visiting New York City?
There are several criteria to consider when visiting New York City, especially for repeat visitors who have made the trip several times and have seen most of the attractions offered in other catalogues, for example.
Our experts recommend that you opt for an Unlimited PASS to take advantage of certain benefits, especially when it comes to lesser-known events or those reserved for the local population of the city in question.
Here are the top reasons to buy a SightSeeing PASS, according to our New York experts:
For visitors who are already familiar with New York City, we recommend purchasing an Unlimited PASS to take advantage of all the lesser-known attractions and make the most of your stay by discovering the hidden facets of one of the world's most visited cities, according to several guidebooks.
You'll have plenty of time to visit New York City, so it's usually a good idea to buy a PASS that allows you to go beyond the city limits and discover other unknown places and spaces.
If you are on a budget, a trip to New York City is not to be missed, as the city has many hidden gems and historical sites and places that will immerse you in the history of American civilisation.
With an Unlimited PASS, you can choose the most suitable attractions for the duration of your stay and generally benefit from interesting discounts while saving as much as possible on your budget. The SightSeeing Pass, therefore, offers you the opportunity to benefit from several interesting advantages in order to have maximum time to enjoy most of the attractions during a short stay.
What are the features of the SightSeeing PASS?
This new PASS on the market has a number of interesting features, in particular the possibility of doing an unlimited number of attractions during your stay, with maximum enjoyment.
There are about 90 activities that you can do with the SightSeeing Pass and they are described below:
New York City Museums and Activities
There are many museums in New York City, and this PASS allows you to discover them all while enjoying a maximum of activities. The main places to visit are:
Ground Zero Museum Workshop
Madison Square Garden Tour
New York Botanical Garden
Radio City Music Hall Stage Tour
National Geographic Encounter
Snug Harbor Cultural Center
Metropolitan Museum of Art
Activities and attractions to discover without transportation
Since New York is a big city, tourists can also enjoy discovering some of its wonders by bike, or even on foot for those who like to walk to get to know the peculiarities of New York gastronomy. Here are some activities to do with a group:
East Village Variety Tour
Brownstone Brooklyn Heights and Dumbo
Brooklyn Graffiti and Street Art
Bronx Street Art Walking Tour
Lower Manhattan Walking Tour
Little Italy Walking Tour
GreenWich Village Walking Tour
Secrets of Downtown Walking Tour
Brooklyn Bridge Bike à Central Park
Central Park Walking Tour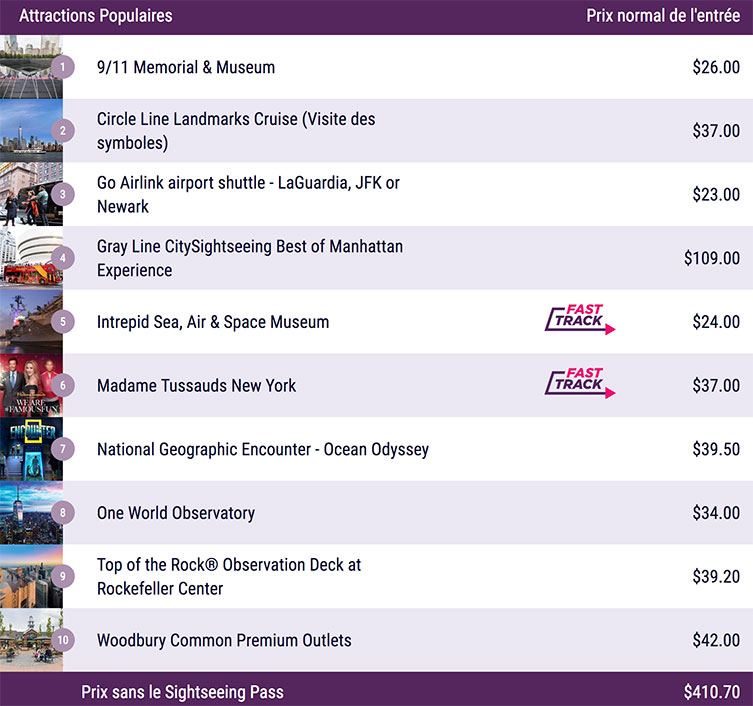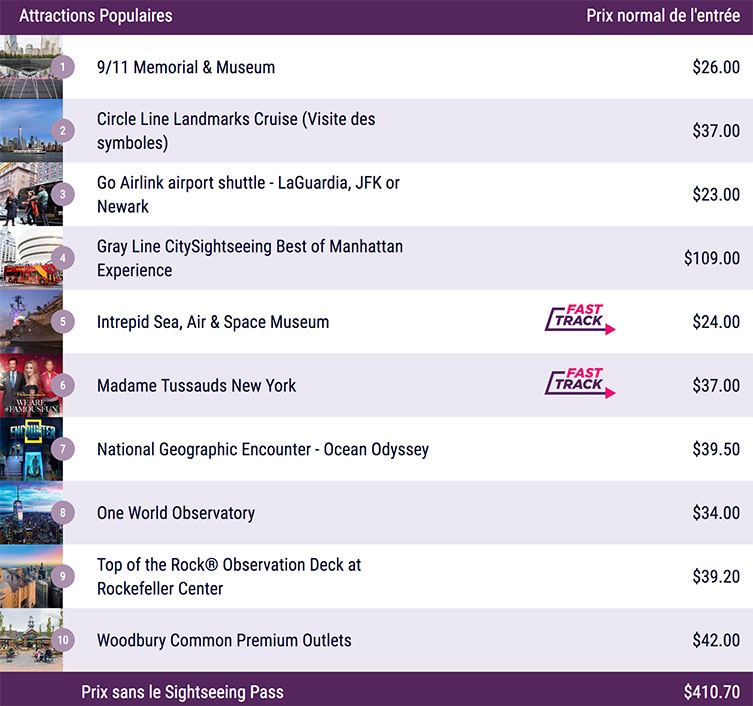 Available Cruises and Bus Tours
You can also discover New York City by using the most popular means of transport, from small boats to specialised buses, to see the city from the comfort of your own seat. Some of the most popular tours include
The Brooklyn bus tour, for those who want to discover the capital of American street art.
The Downtown Tour for those who want to discover one of New York City's largest boroughs and see American business at work in all its glory.
A night bus tour is also a must when visiting the city that never sleeps.
Take a Circle Line cruise to enjoy the fresh air and the tranquility of a small boat as you admire New York City while sipping a good cocktail.
The best restaurants on the SightSeeing Pass
New York's food scene is diverse, with international specialities and unique products for food lovers. Here are some of the best places to dine with the Unlimited PASS:
BB King's Blues Club Grill Restaurant.
Buca Di Beppo restaurant, serving a variety of Italian specialities.
Buffalo Wild Wing, located in Times Square.
Planet Hollywood Restaurant, which will undoubtedly remind you of the American movie scene.
How much does a SightSeeing PASS cost?
The price of the Unlimited PASS generally depends on a number of factors, mainly the length of stay, whether for adults or children.
The duration of the PASS can range from two to ten days with relatively low prices and, above all, you have the opportunity to reduce the cost considerably by increasing the number of activities.
Here is some information about the cost of a SightSeeing PASS:
1 Day
144 $
---
For 3-12 year olds
116 $
---
2 Days
189 $
---
For 3-12 year olds
135 $
---
3 Days
229 $
---
For 3-12 year olds
170 $
---
4 Days
264 $
---
For 3-12 year olds
191 $
---
6 Days
314 $
---
For 3-12 year olds
231 $
---
10 Days
369 $
---
For 3-12 year olds
286 $
---
The SightSeeing PASS can be used as long as the activities have not been completed, as long as the validity period is respected, allowing you to enjoy the maximum number of attractions for a single price.
How do I buy and collect the SightSeeing PASS?
Basically, all you need to do is go to a dedicated website or a legitimate travel agent to purchase a PASS. You will need to enter your personal details and bank details as you select the offer that best suits your needs.
Once purchased, an email will be sent to your home address and all you need to do is print the PASS or keep it on your phone to show to the agents at the various attractions.
The SightSeeing Pass, a tool that revolutionises visits to New York
With the SightSeeing Pass, you can benefit from several advantages, especially economic ones, by reducing the cost of your stay, as the attractions can be quite expensive in some cases.
The PASS opens the doors to the One World Trade Center Observatory and gives you the opportunity to enjoy an unobstructed view of this immense city.
The main advantage of the SightSeeing PASS is the ease with which it can be obtained, as all you need is an Internet connection.
New York SightSeeingPass

Product Name: New York SightSeeingPass
Product Description: Passes for 1, 2, 3, 4, 5, 6, 7 or 10 attractions with discounts of up to 60%.
Price: 135
Currency: EUR
Availability: InStock
Attractions choice

Days of validity

Savings

Price