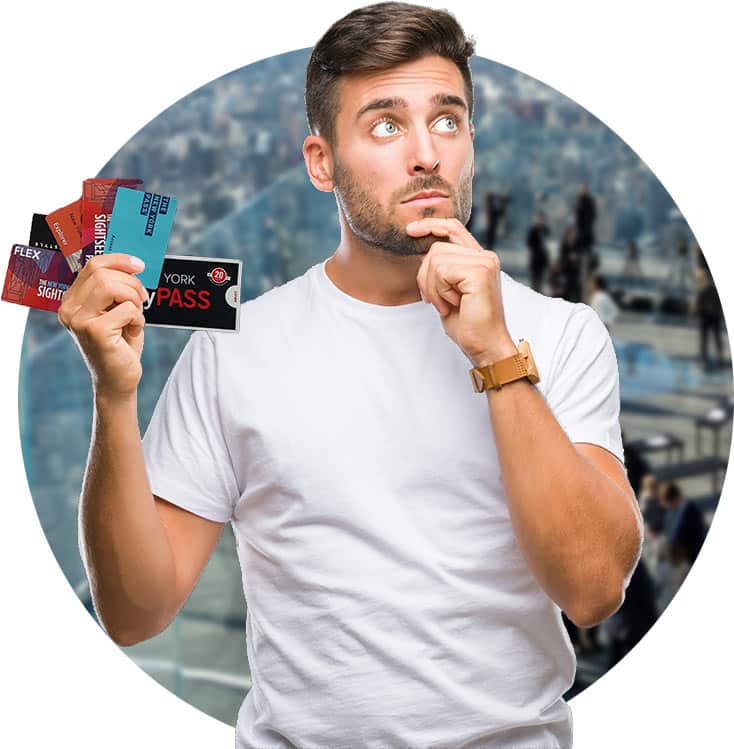 All about New York Passes
There are several different types of tourist passes for travelling to New York. So how do you make the right choice and enjoy your stay? To help you get the deal that's right for you, here's a guide to comparing New York passes.
What is a New York Pass?
New York Passes work like a discount card. Buying a Pass is like buying one collective ticket instead of several individual tickets to visit attractions. This can save you a lot of money during your stay compared to buying individual tickets.
To take advantage of this, simply order a pass and show it on your smartphone (or in paper form) at the entrance to the attractions. There are two types of tourist passes for New York: attraction-based passes and day passes.
Two Pass formats
Attraction Based Passes
Attraction-based passes include the Sightseeing Flex Pass, CityPASS and GoCity. They allow you to visit between 3 and 12 attractions in New York, depending on your preferences. All of these passes are valid from 9 to 30 days after first use, giving you plenty of flexibility.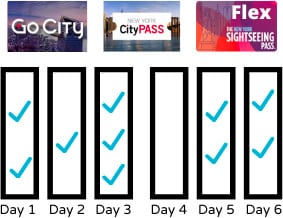 Day Passes
Day Passes, such as the New York Pass and Sightseeing Pass NYC, allow you to visit as many attractions as you want or can during the number of days for which you have purchased the pass. They are available for 1, 2, 3, 4, 5, 6, 7 and 10 days. There is no limit to the number of attractions you can visit, but the days must be consecutive. To choose between these two categories of pass, see if you prefer to travel by the day or by the type of attraction.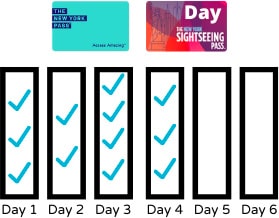 Which is the best New York Pass?
Whether it's a day pass or a pre-determined selection of attractions, there's something for everyone with New York Passes. Here are some quick tips to help you decide which pass is right for you. You can also check out our Comparison Chart, which can help if you already know which attractions you are interested in.
Book before departure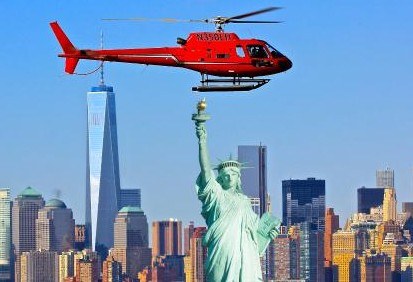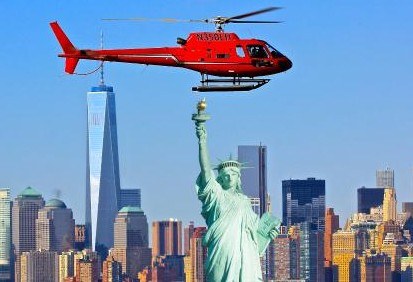 Take a helicopter over New York. Emotion guaranteed!
Enjoy a unique experience at a Broadway show.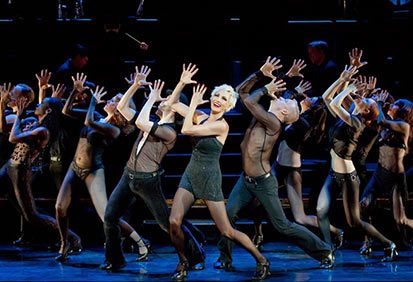 For your first trip to New York
If this is your first trip to New York and you want to see a lot of attractions and sites, you can opt for a day pass. The most popular is the New York Pass. These tourist passes allow you to see as many attractions as you want in one day.
For a selection of attractions
For visitors who already have a clear idea of what they want to do in New York, it's best to choose an attraction-based pass such as the Sightseeing FLEX Pass or the New York Go City Pass.
For Families
The Sightseeing FLEX Pass is ideal for families. In addition to its flexibility, it includes a 50% discount on children's packages.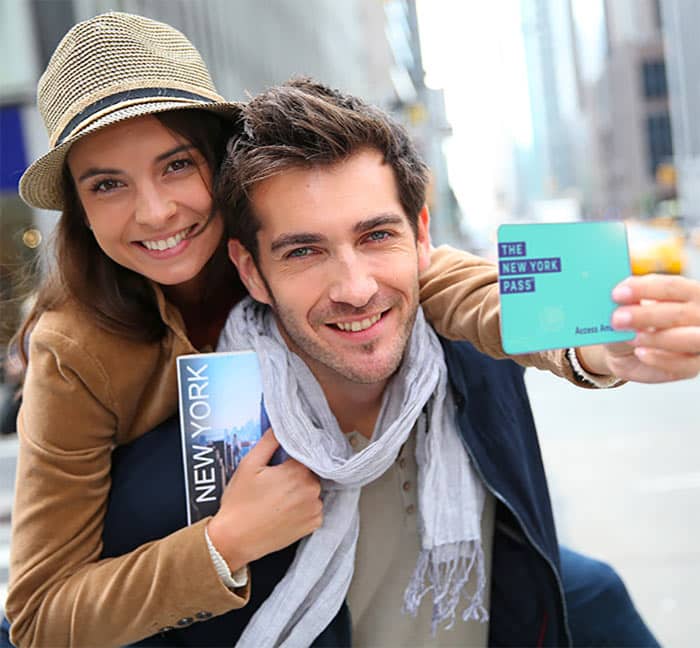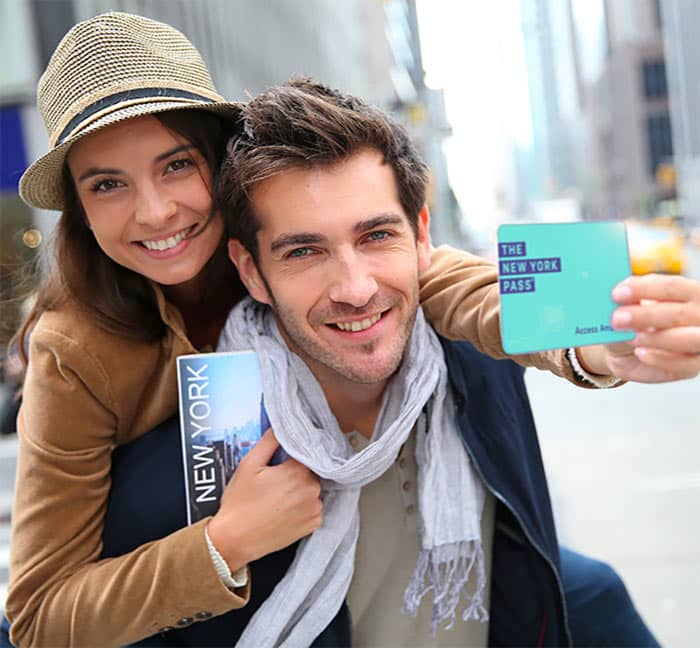 Tip: Travel according to your needs and preferences
The New York Pass is the best day pass for people who want to see as many attractions as possible and plan their stay on a fixed budget. It is our most popular pass.
The New York Go City Pass is ideal if you want to travel with more flexibility, i.e. spread your visits over several days (and if you occasionally plan a day off). It includes all the best sightseeing tours in New York.
To visit a Max
For flexibility
Name of the PASS

Sightseeing Day Pass

Go City

The New York Pass

Sightseeing Flex Pass

CityPASS

The Passes in pictures
In detail
Best value for money
Take your time
Visit as much as you like
Ideal for 5 days or more
Practical for a 1 or 2 day stay
Our opinion
A must for those who want to visit 2-3 attractions/day
Perfect for alternating between visiting attractions and relaxing
Very good for doing a lot of sightseeing and a cruise
60 days to do 12 visits, from leisurely touring
Few attractions but maybe the one you want to see
Savings
70%
51%
50%
50%
40%
Our rating / 5
4,6
Very good
4,5
Very good
4,2
Good
3,7
Quite good
3
Not bad
Reviews
4.8

971 reviews
4.6

1736 reviews
4.4

734 reviews
4

253 reviews
3

14322 reviews
Available attractions
+100
+90
+90
+100
8
Attractions to choose from
Unlimited
2, 3, 4, 5, 6, 7 or 10
Unlimited
2, 3, 4, 5, 6, 7, 10 or 12
5
Valid for ¹
1, 2, 3, 4, 5, 6, 7 or 10
60
1, 2, 3, 5, 7 or 10
60
9
Price
from $144
from $75
from $139
from $74
$129
Advantages
- Unlimited tours
- All hop-on hop-off tours
- Many boat tours
- Very flexible
- Unlimited tours
- Mobile Pass
- All hop-on hop-off tours
- Empire State Building day & night passes
Disadvantages
- Summit One Vanderbilt not included
- Summit One Vanderbilt not included
- Summit One Vanderbilt not included
- Summit One Vanderbilt not included
- Statue of Liberty not included
- Very limited choice
- No hop-on hop-off bus
- Summit One Vanderbilt not included

OBSERVATORY PLATFORMS

Empire State Building
Top of the Rock
The Edge
One World Observatory

Summit One Vanderbilt

MUSEUMS

American museum of Natural History
Guggenheim Museum
9/11 Memorial museum
Madame Tussauds
Museum of Modern Art
Intrepid Museum
Whitney Museum
Staten Island Museum
Statue of Liberty & Ellis Island

HOP-ON HOP-OFF BUS TOURS 2

Name of the PASS

Sightseeing Day Pass

Go City

New York Pass

Sightseeing Flex Pass

CityPASS

Big Bus - Uptown tour
Big Bus - Downtown tour
Gray Line - Night tour
Gray Line - Brooklyn tour
Gray Line - Best of Manhattan
1st Exp - Brooklyn, Bronx & Queens (non hop-on hop-off)

BOAT CRUISES

Circle Line - Monuments 1h30
Circle Line - Best of NYC 2h30
Circle Line - Harbour light
Circle Line - Liberty Cruise non-stop
Circle Line - Super Express Downtown
Hornblower - Statue of Liberty
Hornblower - Alive after five
Manhattan by Sail - Sunset Sail
Manhattan by Sail - Daytime Cruise
Manhattan by Sail - Statue Sail
Name of the PASS

Sightseeing Day Pass

Go City

The New York Pass

Sightseeing Flex Pass

CityPASS

GET YOUR PASS

By post
Printable version
Mobile version